Interfaith Office Covid-19 Safety and Service Update 
October 1st, 2021 
With the increased prevalence of the Covid-19 Virus DELTA Variant, and in the interest of the vulnerable population we serve, we ask that all staff, volunteers and clients abide by the following guidelines:
1) During transport, both parties must wear of a mask within the transport vehicle.
2) All parties must wear a mask when within six feet from one another.
3) During in person assessments, the wearing of a mask is mandated.
4) Interfaith Ozaukee will continue to provide masks / gloves / hand sanitizer / cleaning supplies in vans and for use in volunteer's personal vehicles.
5) All volunteer drivers are asked to clean / disinfect ICO vehicles, especially touchpoints, in-between rides and at end of day.
6) Service delivery based on driver availability, prioritized to:
~Life essential rides for medical / food / medicine.
~Medical appointments to out-of-county destinations, especially wheelchair rides.
~All other rides considered on a case-by-case basis, including ex. chiropractor, hearing aid center, optometrist.
At Interfaith Ozaukee, the health and safety of our volunteers and clients remains our highest priority. We have updated our health and safety guidelines to reflect the most current CDC Covid-19 recommendations. These updates help us ensure that we continue to provide a safe, healthy experience for both our volunteers and the seniors we serve.
If you have any questions or concerns, please do not hesitate to contact
If you have any questions or concerns, please do not hesitate to contact
pschultz@interfaithozaukee.org.
 Paul J. Schultz, NHA , Executive Director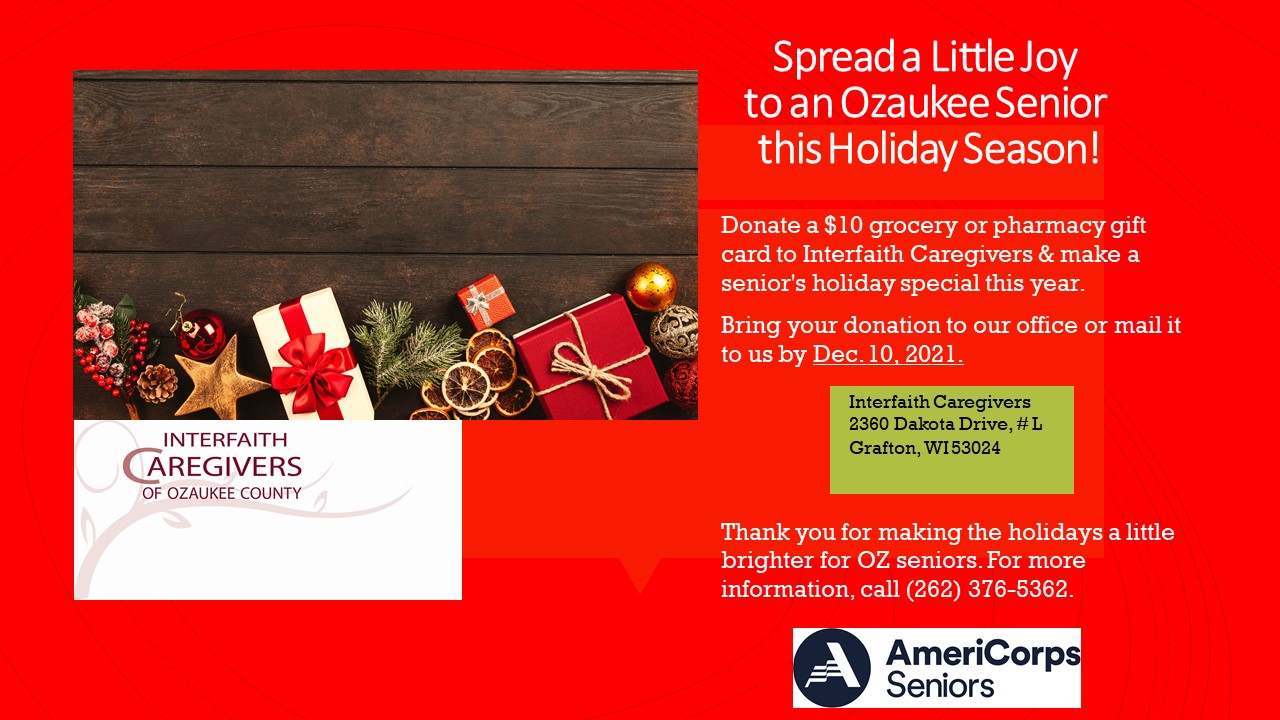 We're expanding our offerings and presence!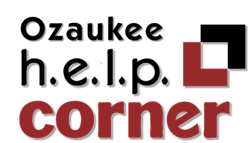 Interfaith Ozaukee is host to the Ozaukee HELP corner, lending wheelchairs, walkers and canes free of charge. Click to learn more!
You can get involved in any number of ways – check below to see what we're up to!
10% Volunteer Discount Card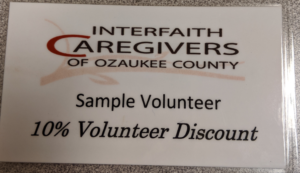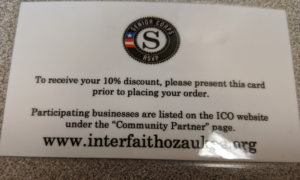 Interfaith Caregivers Ozaukee County has partnered with several Local Businesses to create a 10% Volunteer Discount Card Program.  These local businesses want to recognize our volunteers and say Thank You for all that you do to provide transportation and other support to Seniors in Ozaukee County.  For a complete list of businesses participating in this program, please click on the Community Partners Link in the menu bar at the top of the page. 
If you are a local business that would like to become a Community Partner, please contact Paul Schultz, Executive Director, Interfaith Caregivers Ozaukee County.  262-376-5362 x104 

Get the latest news and happenings about Interfaith Caregivers of Ozaukee County by visiting our FaceBook page!  If you click the "Find us on FaceBook" logo, you can press the "like" button on our page so we are always in your Facebook news feed!
Help us light up a life
Interfaith Caregivers Ozaukee offers services free-of-charge to clients. To support our mission of enabling seniors, including those with limited mobility to remain independent in their homes, we rely on generous contributions to support our programs.
For additional ways to support Interfaith Caregivers of Ozaukee County, please see donation page.
Sponsorship Opportunities
We could not do the work we do, without your support.
Sponsoring our events provides you with a way to showcase your organization and support our mission!