Become a Volunteer
Potential volunteers are asked to fill-out a Volunteer Application and return it to Interfaith, before meeting with a Program Coordinator.  Then volunteers are screened and trained before being matched with a client.
We look forward to you joining our volunteer team!
Click here to download a Volunteer Application
or
Click here for an Online Volunteer Application
Interfaith Caregivers of Ozaukee County is committed to the inclusion of volunteers with all levels of ability.  Anyone who is interested in volunteering and feels s/he may need an accommodation based on the impact of a disability should contact Executive Director Paul Schultz at (262)376-5362 privately to discuss your specific needs. 
Try It! You Might Like It!
Volunteering with Interfaith is very flexible—volunteers help as little or as often as fits into their schedule.  Whether you have an hour a week to visit with a senior, or just an hour a month to drive and accompany a client to a medical appointment, you can choose how often you would like to volunteer.
Our volunteers are a diverse group—people of all ages and at all stages in their lives—retirees, empty-nesters, working adults, young professionals, stay-at-home moms, families and teens.  Anyone who has a desire to help others is welcome to join us!
The Benefits of Volunteering…
Flexible 24-hour access to our online scheduling system allows you to blend volunteering into your life at your speed
Meet new people and make new friends
Stay connected and contributing to the community you love
Volunteering is healthy
Did You Know…?
Ozaukee Interfaith Caregivers serves several hundred clients in Ozaukee County.  The services provided by volunteers include rides to medical appointments, grocery shopping, friendly visits and phone calls and other essential errands.
Average age of an Interfaith Ozaukee client:  76 and approximately 30% are 85 years old or older
Within the next 25 years, millions of baby boomers across the country will need long-term care services and will require a support network of caregivers including volunteers to deliver those services.  This problem is especially acute in Ozaukee County which has the highest percent of elderly in the state at 16.8%, leading that of Milwaukee (11.9%), Waukesha (15.9%) and Washington (15.1%) Counties. Interfaith has already experienced a fast-rising demand for services and needs to continue to increase its volunteer base to support the increasing demands for service by the county's elderly population.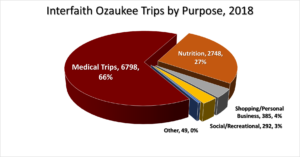 THANK YOU VOLUNTEERS!
Interfaith Caregivers of Ozaukee County depends on the generosity of volunteers to make our mission possible.